The henna painted on my fingernails by old women and children during my first trip to Aceh, in Feb. and March 2005 was faded, nearly gone. The people of Aceh said I would return before the red henna on my hands disappeared, they were right.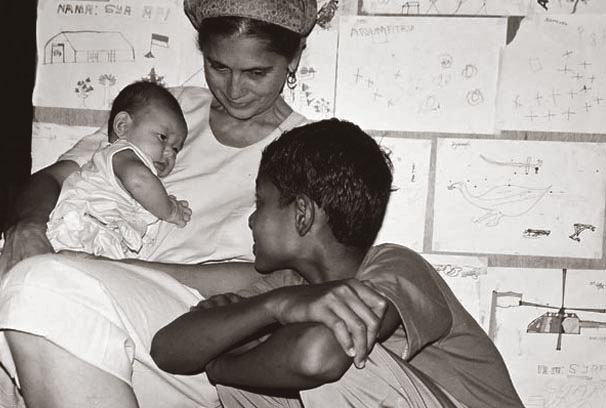 Baby Putri Tsunami, Isnyadi and Ibu Robin at the clinic decorated with children's art.
By the beginning of April 2005, I was packing to return. One cannot really 'look forward' to returning to Sama Tiga Aceh, so near the epicenter of the December 26th 2004 earthquake and hard hit by the tsunami. It is like returning to purgatory. The Bumi Sehat volunteers who keep going back by choice are more than a little touched in the head as they say. And, touched in the heart by love. Aceh, and all of Sumatra are geologically about the most unstable place on Earth. Ask team III who survived an 8.7 earthquake that shook the clinic for nearly 7 minutes. Add to that the fact that this is a conflict zone, where rebel forces have fought to the death for their independence for nearly 30 years. It is not uncommon to hear gunshots in the night. With so many trees felled by the tsunami, Aceh is hot, hotter than ever it was before. Potable water is precious, and even non-drinkable wash water is in short supply, except when it rains and floods. Sanitation is still dicey at best. Malaria is rife in our part of Aceh, where approximately 10,000 internally displaced people are within walking distance of our little clinic. Walking is necessary as the tsunami took most of the cars and motorbikes. It wiped out the main road North to Banda Aceh and South to Meulaboh, stranding survivors who must travel on a swamp road that is all too often impassible.
Why would we do it? Why would we continue to keep this rag-tag clinic open? Because it is the most heart opening work any of us has ever experienced. Because, the need is so apparent. Even seasoned relief workers are moved by the plight of people who have lost everything and most everyone they love. If we close the clinic, malaria victims will die, because they cannot get to the hospital in Meulaboh. Every day and into the night patients, between 40 and 80, come for help. All are living with trauma, struggling with grief. Most all are open and loving, damaged souls. For Tsunami survivors, housing is a crowded barracks room which smells of urine, or a corner of a host family's place – the welcome wearing thin, or a tent, rotting in the rain. They face each day missing wives, husbands, children, parents, friends and neighbors, who are never returning. Their nights are full of fear that the next (inevitable) earthquake will bring another tsunami.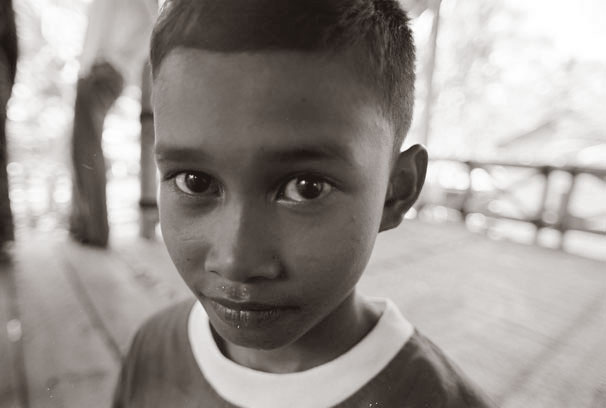 Sharir, an orphan with no one left, lives on the streets of Meulaboh, Aceh.
The diet of tsunami survivors consists mostly of white rice and Sari Mie noodles provided by relief organizations. Vegetables and fruit must be brought by pushbike to the coastal regions from upcountry, and are terribly expensive. Most of the people can't hope to buy these. Since most all of the fishing boats were destroyed, ocean fish is nearly unavailable in our area, except for the few caught by throwing nets, also prohibitively priced. The ditch water fishes and crabs are survival foods, but of questionable quality as corpses were still being found in the muddy ditches. In fact, in our area, approx. eighty corpses were recently (May 20th) unearthed by the torrential rain. Bumi Sehat provided masks, gloves and burial cloth.
For the Bumi Sehat team our fear is that foreign aid will dry up, leaving these people with no source of potable water, no food, and no hope. Recent reports in the Jakarta Post admit that the reconstruction of Aceh amounts to zero. Bridges are still out, roads still submerged or sliding into the quicksand. Water and food are precious and hard to get, impossible in some areas.
While still busy treating infected tsunami wounds and strange tsunami skin ailments, the Bumi Sehat clinic staff does a lot of hand holding, a lot of listening. We administer malaria rapid tests and treat for malaria. We suture new wounds; we do prenatal care and deliver babies. The Bumi Sehat location is the one place people can seek modern medical (doctor managed) attention, midwifery care, counseling for trauma, even hands on healing from local dukun (Acehnese healers who also pray). Our cures include pharmaceuticals, local herbs, trauma cards, homeopathic medicine, aroma therapy, massage, acupuncture, chiropractic care, counseling, what ever works, depending upon who is volunteering at the time.
The clinic also functions as a community resource center. For many displaced residents of our district, it is a place to come, have a cup of coffee, a cookie. It serves as a clean, well-lit place. Orphans come to play. Elderly people sit around and talk story. It is a place of sharing and of healing. The Bumi Sehat Clinic is an oasis where one will find a drink of clean water, a dart or badminton game, and a kind hand.
Team IV consisted of myself, the midwife/project grandma, Margo Berdeshevsky, Photographer and hands on healer in the Hawaiian Kahuna tradition, Ade, our Balinese legal support, Anya our volunteer nurse, Thor and Lakota Hemmerle, Language support, go-fors and liaison between survivors and NGO services, Plus Lakota did media support. Ida Tanjung, offered language support and general help. We were welcomed by the permanent Acehnese staff; Husmaidar, midwife, Aysha, hands-on healer/miracle worker and kitchen staff, Rohani, kitchen and kindness, Hendra, driving and team support, Bang Hanafi, clinic maintenance and snake control, Cut Rachman, community liaison and support, Tia and HasLinda reception and joy supply (they are both 13 years old and work part time after school). Isnyadi, (our wonderful 16 year old orphan, who helped in every conceivable way) has left the team to continue higher schooling in the city of Banda Aceh. We all miss him and have cried a lot over him.
Highlights of patient care include: Yusmi the woman with the Tsunami leg wound that had just not stopped festering, after many courses of antibiotics (including IV in Meulaboh hospital), is doing better. She and her husband lost their baby to the tsunami. At my last meeting with them they told me they were planning to achieve pregnancy as soon as possible. We were given Flufloxacillan from Jon Fawcette Foundation, and we seem to have gotten rid of the infection, though we are watching her carefully. Alfandi, who had suffered a foot laceration in the tsunami, finally healed thanks to Dr. Carolyn and Harvest's idea to dress it with honey. Zuboldah, the grandmother who had third degree burns on both feet, had great pain relief and fast healing using honey and Yinan Baiyao powder. Eric (and later me, after Eric left) redressed the wounds daily, with the honey and cotton gauze. Though the burns were deep, there was no infection or scarring. Other skin wounds were resolved using a dilution of oil of oregano and purified water. Stubborn fungal infections responded to "nilam" (patchouli) oil and "Minyak Kayu Putih" (Indonesian tree oil), provided free by Utama Spice (thank you).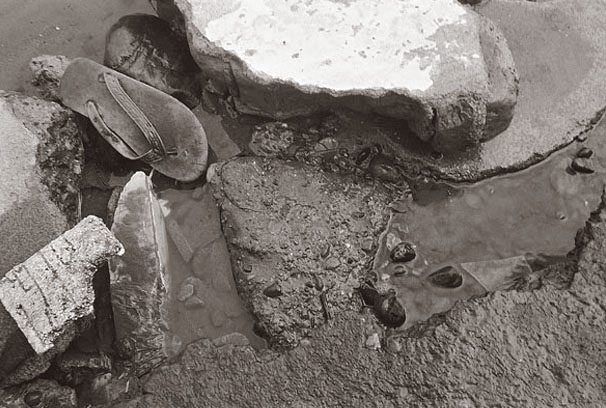 Breeding grounds for Malaria.
Nearly daily we had new cases of falciparum malaria. Most of the cases we found to be people living in the barracks. Often they were from the inland swamp area called "Sungai Mas." We found that even patients who were not vomiting should be treated with a course of Arscam by injection. This is because if we give them the oral medication, they only took half and gave the remaining half away to a sick friend. In these cases both patients would improve until the medication had run out, then plunge dangerously into further malaria fever. We did find that malaria is the Queen mother of evil tropical diseases. Living conditions at the barracks, which are crowded, and surrounded by filthy standing water, breed malaria and dengue fever mosquitoes. We found that nearly none of the mosquito nets provided by UNICEF, were actually in use. After speaking several times with the people in Barracks, we began to see them in use. Dr. David of mentor foundation was fantastic in that he visited us and was available for consultations regarding the malaria patients.
We had no luck getting the tuberculosis experts to come out to Sama Tiga to see patients. The Red Cross helped us evacuate a heart patient and her husband to Medan for treatment. Our high blood pressure patients responded miraculously to a local cure made by kneading the leaves of the star fruit tree (daun blim bing) with drinking water, strain and drink. Taken twice or three times a day we saw dramatic drops in BP, probably preventing many strokes. This kind of sustainable health care really gets us excited.
I was called to a birth along with the traditional birth attendant, Ibu Sakdiah. The young first time mother, delivered a beautiful boy of about 2.700 kg. She had only a tiny tear, which she did not want sutured. There was no hemorrhage. I taught Ibu Sakdiah how to burn the cord, which she very much loved. I pray she uses the candles and burn box I gave her over the blunt school scissors of questionable hygiene which she normally uses. The baby went right to the breast. Postpartum visits were fun, both baby and mother in perfect health, nursing well at the breast. "Alhumdulillah" as they say in the Islamic faith.
Margo found herself surrounded by elderly patients seeking her Hawaiian style of healing massage. She worked hour after hour beside Ibu Aysha, relieving pain and suffering. Though she knew barely a word of Bahasa Indonesia or Aceh, her hands did the speaking in the language of caring. I do think her teacher, the dear departed "Kahlua" of West Maui, was smiling down on his student's service in Aceh. We are working on putting some of Margo's black and white photos on our website. The photos included with this report are Margo's labor of love.
Lakota had the thankless job of keeping the receipts and balancing the budget. She did language support/translation work during clinic hours, while documenting our work in still photos. She and Thor would go into Meulaboh, a hot rough ride through the swamps, to obtain medicines, bottled water, what ever we needed. Lakota was working on helping Mercy Corps develop a curriculum for Safe Motherhood and Infant Survival. Thor worked with Catholic Relief Services to build ongoing support for the communities in our area. He and Ade negotiated for a clinic well with Swiss Rescue. There is news that David Mendoza of Rotary in Bali has found funding for us to build a clinic that will actually stand up to time and weather, which is were the well will be dug, yahoo!
I remember my son Thor at age four asking, "When can I get married?" Wil and I told him he must first be able to climb a coconut tree, so he could get food for his family. One evening at the clinic Thor reached the top of our tallest coconut tree. He brought me four nuts, set them down at my feet and said, "Mom, now I can get married." At seventeen he has become a man. Doing tsunami relief work (Thor was on team I and team II as well as team IV) has given him a beautiful maturity, a deep compassion. One evening, rushing home to beat curfew, he spotted a barracks where the residents all looked sick. He stopped and talked to the people, finding that they had no potable water. Within two and a half hours Thor had Oxfam delivering a 10,000-liter potable water bladder to this community. Five of my children have now worked doing tsunami relief, they have proven that youth is no barrier to service. They have made me believe there is hope for the future.
Ade and Cut Rachman had a terrible week as they awaited the arrival of the ship, "Endless Sun" carrying 3000 kerosene stoves for distribution to displaced people in Sama Tiga and a motorbike for our clinic, plus communication equipment, medicines and tons of relief supplies. When news came, by hand phone text message, that the boat was diverted to Nias, they feared that so heavily loaded she would not be safe in those treacherous waters. When she was scuttled on the coral Ade and Cut Rachman spent a sleepless night awaiting news of the crew. We all sighed with relief, upon hearing that all souls aboard were safe and alive. But, Ade and Rachman faced telling the people waiting to cook, that their stoves were lost at sea. IDEP and Christine Foster, our co-team leader / miracle worker, managed to find us funding for 1,200 new stoves and a beautiful motorbike. As it turned out, earthquake victims of Nias were able to salvage most of the Endless Sun's cargo, so the relief goods were delivered, only to a different address. Thanks to Sam Schultz the Bali crew of the Endless Sun were able to get flights home in spite of lost passports, no shoes, and drenched spirits.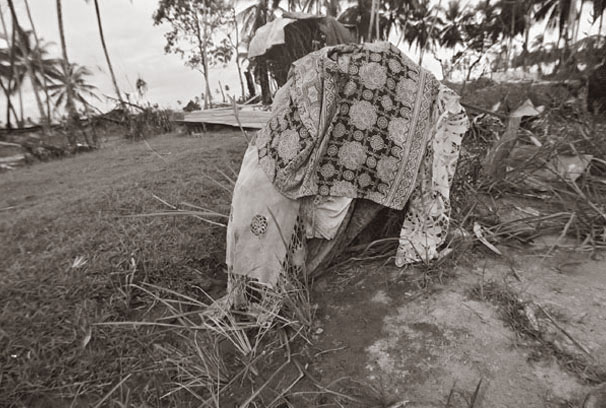 Reminders everywhere.
Aceh's newspaper "Serambi" prints ads run by family members still looking for tsunami survivors. I brought home drawings by the children, of waves, of helicopters dropping the first food they saw, five days after the tsunami. I returned with Margo and Lakota's photos to share with the beautiful people who keep the clinic open financially. As co-team leader with Christine Foster, I am constantly feeling gratitude for our donors, who make it possible for us to do this service. They are the quiet saints, working behind the scenes to restore hope to Aceh.
Speaking of behind the scenes… Logistics coordinator, Melanie Templer, known for her devotion and constant, tireless work, has left for England. Say a prayer for Mel's ailing mom. Brenda Ritchmond, though postpartum with a new baby and still responsible for Bali Buddha, (not to mention her role keeping the Bali birth clinic going) has become the logistics magician, with the help of Wayan Abang. Abang left for team V, so Brenda is hard at it, making the wheels turn, juggling the details. Those of us who have lived in the field know how important a strong logistics team is, Brenda – thank you so much. Phil of International Red Cross, Red Crescent, thanks for getting us from Medan to Meulaboh, and back again safely.
Team V just lost American midwife Kristine, as after nearly four weeks she had to return to the United States. Christine Foster is there, leading. Abang, provides balance, language support, field logistics. Roz is onboard as a trauma counselor. Ade has returned to head up legal support, project logistics, details of relocating and building the new clinic, before this one melts into the jungle. Anya returned to provide nursing support. Our Acehnese staff remains constant and hard working. We have rotating Swiss doctors from PANECO, who are wonderful. Harvest Alcock of Canada, worked tirelessly in Bali and without taking a break has left to join the team in Aceh. Next week we ship Doctor Bobbi Aqua out.
The Bali support team this new month includes myself, Brenda, Sandi, visiting midwives Shirley Tidy from Australia, Helena Dunn of South Africa, and Sherry Sunshine of Maui, awesome apprentice Camie Bargerstock. Ibu Putu, Ibu Jero and Ibu Budi continue to be the cornerstone of loving maternity care for the Bali clinic. At IDEP we have a huge team that nourishes us every step of the journey, Frank Wilson and David Mendoza at the financial helm, Petra Schnieder, our "mom" our inspiration, Samantha, growing in service, Cat, who makes us feel so good about ourselves, Lisa Newell and Endang – behind the scenes, and ever essential. The people who stand behind us, virtually keep us alive and well in the field.
For those of us who have, 'seen the homeless in the open grave of God's hand,' life is forever altered. We cry so easily. At last we understand the wound that Tolkien spoke of in his character, Bilbo. That brave Hobbit who, having adventured too far from the Shire, could never find himself the same again.
A long time ago Jeannine Parvatti, author and visionary trailblazer, introduced me to the concept of, "the Religion of Gratitude." I would say that amid the danger and devastation, we, each of us, has been baptized in the Religion of Gratitude. While the Tsunami has tested our faith, having woken to a world utterly unsafe, broken, and destabilized, we are reborn in love, every minute in Aceh.
From
Ibu Robin Lim
and every soul of
Bumi Sehat
~ Peace and Thank You
May, 2005, Aceh, Indonesia